Wet Industrial Air Scrubber System
Wet scrubbers use a scrubbing liquid usually water to remove the contaminants from gas stream. The gas stream can be contaminated with particulate, gas or a combination of both. The gas stream can contain particulates , gas or both. They are very effective at removing particles as well as gases from exhaust streams created during any industrial type of environment.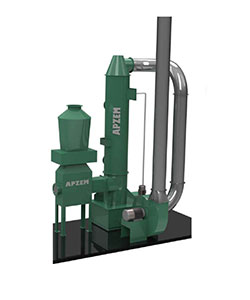 Wet Industrial Scrubber
H2S , HCl , HF , HBr
HCN ,HNO3 , NH3
Formic acid , Chromic acid
SO2 , Cl2, F2, Br2 , BCl3, BF3
Formaldehyde , Ethylene compounds
Soluble alcohols, acids
VOCs And many others
Landfill and Biogas Contaminants
Acid Fumes and gases
Chemical Fumes and Odor
Food Processing Odors
Metal Finishing Fumes
Steel Processing Fumes
Wastewater treatment plant odors
Can sustain highly corrosive atmosphere.
Relatively low pressure drop.
High mass transfer efficiency.
Require relatively small space.
Customization Factors
Accessories
Others
Customization Factors
Contaminant solubility
Vapor pressures
Wash liquid flow rate
Liquid to gas ratio
Packing chamber height, diameter, and volume
Packing media type and size
Chemical additives
pH control
Precipitation of reaction products
Multiple solution scrubbing
Required scrubbing stages
Pressure drop across packing
Materials of construction
Site requirements
Accessories
Others