SOX Scrubber

Product Description
The scrubber technology works by passing the dirty exhaust gas stream created by the engine through several chambers that contain a carefully generated 'scrubbing cloud' of water. Inside these chambers, a high number of droplets rapidly capture the errant particles in the process stream.
Working:
This scrubber system can operate in a continuous open loop, closed loop and during a predetermined period, be switched to operate as a zero-discharge system. Seawater is used to cool the scrubber water in circulation. The automation system during commissioning is optimized to the lowest possibly energy consumption and keeps the emissions within stipulated limits, regardless of Sulfur content in the fuel, engine load or water alkalinity.
Technical Specification
Air Flow: upto 70,000 CFM
Efficiency : upto 99.99% capturing efficiency
MOC: Mild Steel / SS 304 / SS316 / FRP / PP / PVC
Finish: Powder coated / Matt finish
Power option : 3 Phase.
Customization : Yes , customization available suiting your needs.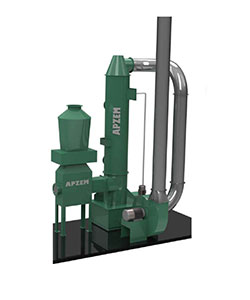 SOX Scrubber

View Brochure

Contaminants Removed

H2S , HCl , HF , HBr
HCN ,HNO3 , NH3
Formic acid , Chromic acid
SO2 , Cl2, F2, Br2 , BCl3, BF3
Formaldehyde , Ethylene compounds
Soluble alcohols, acids
VOCs And many others
Applications
Landfill and Biogas Contaminants
Acid Fumes and gases
Chemical Fumes and Odor
Food Processing Odors
Metal Finishing Fumes
Steel Processing Fumes
Wastewater treatment plant odors
Advantage

Can sustain highly corrosive atmosphere.
Relatively low pressure drop.
High mass transfer efficiency.
Require relatively small space.
Other Technical Details
Customization Factors
Accessories
Others
Customization Factors
Contaminant solubility
Vapor pressures
Wash liquid flow rate
Liquid to gas ratio
Packing chamber height, diameter, and volume
Packing media type and size
Chemical additives
pH control
Precipitation of reaction products
Multiple solution scrubbing
Required scrubbing stages
Pressure drop across packing
Materials of construction
Site requirements
Accessories
Centrifugal Blower,
Spiral Ducts,
Flexible duct,
Suction hoods,
Magnahelic gauge,
Packings
PH meter
Water Level indicator & controller
Pump etc..
Others
Certification : All Apzem Products are designed to comply with ACGIH and OSHA standards as well as local PCB Standards.
Warranty : All Apzem Products are minimum one year waranted for performance and quality.