Plate Column Scrubber is the simplest of wet scrubber and works on and are custom designed to capture dust particles, VOCs, chemical fumes, and other water / chemically soluble fumes and Vapors generated in industrial process. Spray tower scrubber is of low efficiency in comparison to other wet scrubbers at a lower pressure drop.
For enquiries or to know more feel free to contact us @ 9789066648 / 044-26580258 or email to sales@apzem.com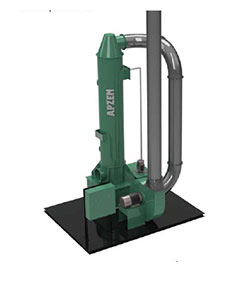 Plate Column Scrubber
H2S , HCl , HF , HBr
HCN ,HNO3 , NH3
Formic acid , Chromic acid
SO2 , Cl2, F2, Br2 , BCl3, BF3
Formaldehyde , Ethylene compounds
Soluble alcohols, acids
VOCs And many others
Chemical industries
Pulp and paper industries
Petrochemical industries
Steel making
Corn Processing Facilities,
Food Manufacturing,
Pharmaceutical industries
Fertilizer production and processing industries
Machining and Grinding exhaust,
Fiberglass & Composite Industries,
Utility Boilers,
Can sustain highly corrosive atmosphere.
Relatively low pressure drop.
High mass transfer efficiency.
Require relatively small space.
Customization Factors
Accessories
Others
Customization Factors
Contaminant solubility
Vapor pressures
Wash liquid flow rate
Liquid to gas ratio
Packing chamber height, diameter, and volume
Packing media type and size
Chemical additives
pH control
Precipitation of reaction products
Multiple solution scrubbing
Required scrubbing stages
Pressure drop across packing
Materials of construction
Site requirements
Accessories
Others