Packed Bed Scrubber

Product Description
Packed Bed Wet Scrubbers are used to remove acids, soluble gases, chemicals, fumes and odors. The contaminated air flows through the packing media that is specially designed for each application. It is wetted with recirculated liquid. Liquid solvent is used to absorb the gas pollutants. A blow down from the tank with makeup water removes the contaminant products before they precipitate.
Working:
Packed bed scrubber enlarges the space between the fluid and the gas that is exhausted. This helps in purifying the exhaust gas with its internal special pieces. Special hollow thermoplastics are used in packing which helps in removing soluble gases like HCl, Cl, BR2, NH2, SO2, H2S, & Nox.Scrubber efficiency usually depends on the interfacial area between the liquid, gas and the turbulence at the interface. Gas, liquid flows and the required concentration change are the most important design parameters that are considered while designing the scrubber column.
Technical Specification
Air Flow: upto 70,000 CFM
Efficiency : upto 99.99% capturing efficiency
MOC: Mild Steel / SS 304 / SS316 / FRP / PP / PVC
Finish: Powder coated / Matt finish
Power option : 3 Phase.
Customization : Yes , customization available suiting your needs.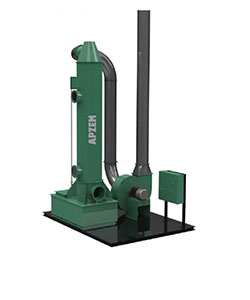 Packed Bed Scrubber

View Brochure

Contaminants Removed

H2S , HCl , HF , HBr
HCN ,HNO3 , NH3
Formic acid , Chromic acid
SO2 , Cl2, F2, Br2 , BCl3, BF3
Formaldehyde , Ethylene compounds
Soluble alcohols, acids
VOCs And many others
Applications
Landfill and Biogas Contaminants
Acid Fumes and gases
Chemical Fumes and Odor
Food Processing Odors
Metal Finishing Fumes
Steel Processing Fumes
Wastewater treatment plant odors
Advantage

Can sustain highly corrosive atmosphere.
Relatively low pressure drop.
High mass transfer efficiency.
Require relatively small space.
Other Technical Details
Vertical Packed Bed
Horizontal Packed Bed
Customization Factors
Accessories
Others
Vertical Packed Bed
Vertical Packed Bed Scrubbers provide one of the most efficient removals of acid gases, odors and vapor fumes by using a vertical counter flow design. The contaminated gas flows up while recirculating liquid sprays downward into the packed bed. The gases are absorbed by the scrubber solution solubility level and by chemical reaction.
Vertical Packed Bed Scrubbers are commonly used in application removals of odors such as Amines, Ammonia, Diamines, H2S, Mercaptans, Organic Sulfides and Skatole.
The vertical counter-flow design typically provides the best scrubbing efficiency of vapors and is the most common design found in most industries. Vertical Packed Tower Scrubber is normally not used when solid particulate is in the air stream. Air flow capacity for a single shop fabricated tower can be up to 75,000 CFM.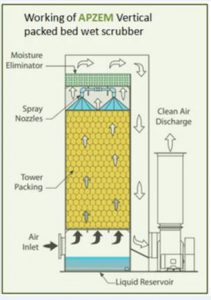 Horizontal Packed Bed
This is a cross-flow design with scrubbing liquid flowing vertically downwards while the gas passes horizontally through the packing section. Horizontal Packed Bed Scrubber is used when limited headroom is an issue at a customer's facility or when low profile is desired for roof-top applications. Multiple stages can be easily provided in one housing with separate sumps and pumps if required.The cross-flow design is less susceptible to fouling for airstreams that may contain solid particulate. Air flow capacity for a single shop fabricated tower can be up to 75,000 CFM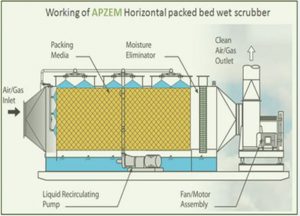 Customization Factors
Contaminant solubility
Vapor pressures
Wash liquid flow rate
Liquid to gas ratio
Packing chamber height, diameter, and volume
Packing media type and size
Chemical additives
pH control
Precipitation of reaction products
Multiple solution scrubbing
Required scrubbing stages
Pressure drop across packing
Materials of construction
Site requirements
Accessories
Centrifugal Blower,
Spiral Ducts,
Flexible duct,
Suction hoods,
Magnahelic gauge,
Packings
PH meter
Water Level indicator & controller
Pump etc..
Others
Certification : All Apzem Products are designed to comply with ACGIH and OSHA standards as well as local PCB Standards.
Warranty : All Apzem Products are minimum one year waranted for performance and quality.