Marine Exhaust Gas Scrubber
APZEM offers exhaust gas cleaning systems for marine industries. The marine exhaust gas cleaning scrubber system removes sulfur and harmful particulate matter (PM) from the ship. APZEM engineers have designed, customized, built for exhaust gas cleaning systems for SOx and particulate matter reduction as well as in controlling other pollutants and mists. It has industry-proven process technologies to help the organization, which has to reduce emissions, and help to enhance health and safety. The engineers design the marine scrubber as slim and reliable equipment on the market. This scrubber operates by spraying Caustic soda (NaOH) and seawater into the exhaust gas to trap the sulfur. APZEM marine scrubber enables to meet SOx limits without switching to expensive low sulfur fuel.
Based on the sources, marine scrubber can be designed for single exhaust emission source and multiple exhaust emission sources. It is classified into single stream inlet and multi steam inlet.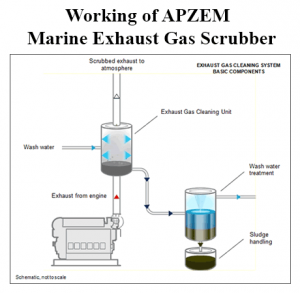 H2S , HCl , HF , HBr
HCN ,HNO3 , NH3
Formic acid , Chromic acid
SO2 , Cl2, F2, Br2 , BCl3, BF3
Formaldehyde , Ethylene compounds
Soluble alcohols, acids
VOCs And many others
Features of marine scrubber:
Allows the scrubber system to fit in existing funnel casing
Reduces spaces and ducting requirements
Scrubber meets back pressure requirements for the engine
Low weight
Minimal impacts on ship
Adaptable design for installation
Advantages of single stream inlet:
Low installation costs
Requires minimal changes to existing ductwork
Optimizes each scrubber for dedicated exhaust source
Fits in funnel where height is limited
Advantages of multi stream inlet:
Fits where multiple smaller scrubbers do not if funnel space is limited
Reduces number of installed scrubbers
Reduces onboard auxiliary equipment
May reduce system cost
Classifications
Customization Factors
Accessories
Others
Classifications
Marine scrubber can be classified into following types based on the requirements and conditions.
Open loop system:
This system uses alkalinity of seawater as buffer with using fresh water. It is recommended to use open seas with moderate to high alkalinity.
Closed loop system:
This system works with using of minimal make up water and it uses additional reagent as buffer. It is recommended to apply water with low alkalinity such as ports, harbour, estuaries, canals and inland water ways.
Hybrid loop system:
It is a flexible design scrubber system and a combination of both open a closed loop. Since it applies  to both conditions, with low alkalinity water and high alkalinity water, this type can be used for everywhere.
Customization Factors
Accessories
Others