Incineration is a waste treatment process that involves the combustion of organic substances contained in waste materials. Incineration of waste materials converts the waste into ash, flue gas, and heat.
Incinerator Scrubber is used for the safe removal of harmful flue gases that are emitted from the incinerators and thermal oxidizers.
Incinerator scrubber is specially designed for high-temperature furnace and incinerator filter applications and for all combustion process that produces corrosive by-products.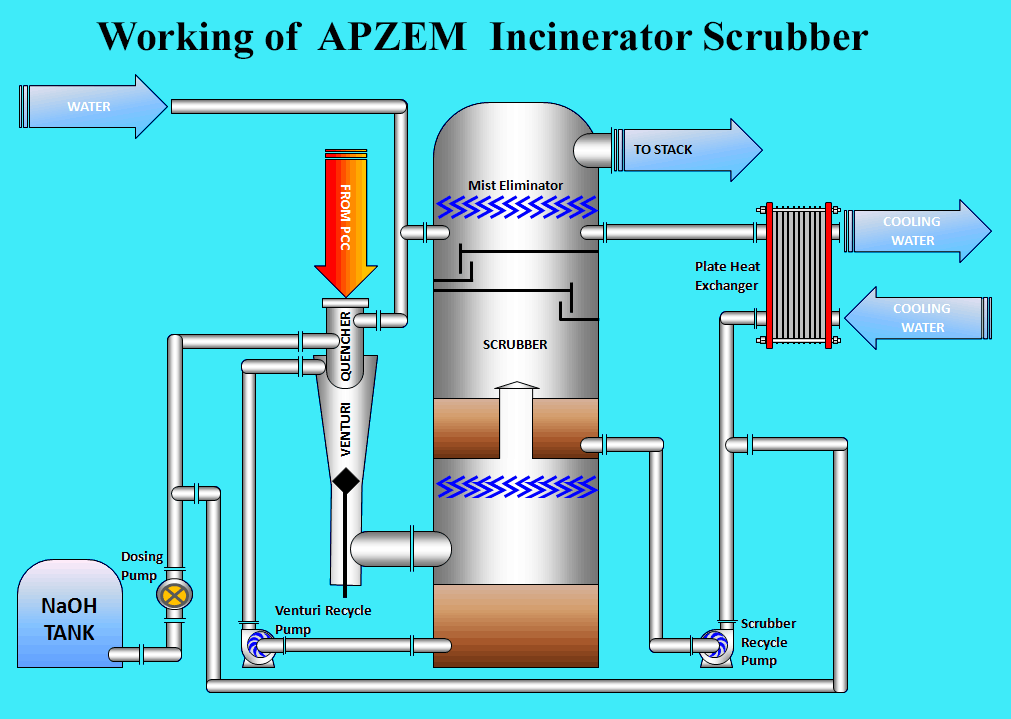 H2S , HCl , HF , HBr
HCN ,HNO3 , NH3
Formic acid , Chromic acid
SO2 , Cl2, F2, Br2 , BCl3, BF3
Formaldehyde , Ethylene compounds
Soluble alcohols, acids
VOCs And many others
Rotary kilns
Calcinators
Multiple hearth furnaces
Refractory furnaces
Fluidized bed furnaces
Biomass grate furnaces
Catalytic combustion furnaces
Waste-fired boilers
Liquid injection incinerators
Direct flame gas incinerators
Hazardous waste incinerators
Sludge incinerators
Fume oxidizers
VOC oxidizers
High efficiency packed bed incinerator scrubber
Mist eliminator section – 99%+ efficient units available.
Integral recirculation system and corrosion-resistant pump.
Piping package for quench and scrubber sections.
Vertical or horizontal wet quench section or quench venturi section.
Instrumentation package, including pH control and flow sensors. Fully automated operation.
Motor control starter package.
Systems are custom-engineered to accommodate user gas volume and contaminant input/output loading.
Customization Factors
Accessories
Others
Customization Factors
Contaminant solubility
Vapor pressures
Wash liquid flow rate
Liquid to gas ratio
Packing chamber height, diameter, and volume
Packing media type and size
Chemical additives
pH control
Precipitation of reaction products
Multiple solution scrubbing
Required scrubbing stages
Pressure drop across packing
Materials of construction
Site requirements
Accessories
Others