H2S Scrubber or Hydrogen Sulfide Scrubber is a wet scrubber used for the removal of H2S gas. It is specially designed for the removal of harmful odorous hydrogen sulfide gas from the industrial process and municipal waste treatment. H2s monitor is used to monitor the level of H2S and H2S air scrubbers are used in bio gas treatment. H2s wet scrubbers are also used to remove hydrogen sulfide from natural gas.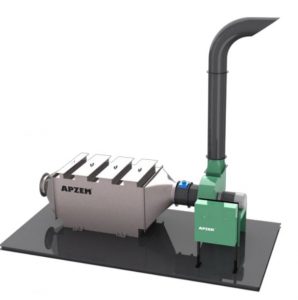 H2S Gas Scrubber
Efficient intimate contact between gas and liquid reagent
 Simple design and operation with no packed columns
Factory constructed, compact design
 No waste – only environmentally acceptable solid sulfur cake
 Automated control system
Steel and Mining industry,
Electric power plants,
Oil and gas extraction operations,
Oil refineries,
Pulp and paper mills,
Sewage treatment plants,
Large poultry farms ,
Portland cement kilns,
Municipal waste landfills,
Coke ovens,
Sulfur products and hydrogen sulfide production,
Asphalt production and storage etc….
Small footprint
Low installed costs
 Automatic reagent addition
 No disposal of potentially hazardous media
 No labour for media cleaning or replacement
 Consistent performance with
99% H2S removal
 No additional waste treatment equipment or operating costs
 Automatic response to changes in gas flow rate or H2 S composition
Continuous reliable operation without any column to plug, foul, or foam.
Customization Factors
Accessories
Others
Customization Factors
Contaminant solubility
Vapor pressures
Wash liquid flow rate
Liquid to gas ratio
Packing chamber height, diameter, and volume
Packing media type and size
Chemical additives
pH control
Precipitation of reaction products
Multiple solution scrubbing
Required scrubbing stages
Pressure drop across packing
Materials of construction
Site requirements
Accessories
Others