CO2 Air Scrubber

Product Description
Apzem's Carbondi oxide scrubbing system is used in the removal carbondi oxide (co2 ) from air. Apzem provides industrial co2 air scrubber system that is much efficient in the absorption of co2 from any type of industrial plants that involves in the emission of Co2 . This scrubber includes Co2 absorbing chemials and materials and its scrubbing efficiency is up to 99.99%.
Working:
This is a pressurized water scrubbing technology offered for carbon dioxide (CO2) removal and scrubbing of varied gas streams such as biogas, landfill gas, sour natural gas, unconventional gas streams such as Coal Bed Methane (CBM), shale gas as well as vent gas/tail gas & acid gas streams.
Hydrogen Sulphide (H2S) free Biogas coming out of the H2S removal system is fed to the inlet of CO2 removal system i.e. Carbon Dioxide Scrubber.
Technical Specification
Air Flow: upto 70,000 CFM
Efficiency : upto 99.99% capturing efficiency
MOC: Mild Steel / SS 304 / SS316 / FRP / PP / PVC
Finish: Powder coated / Matt finish
Power option : 3 Phase.
Customization : Yes , customization available suiting your needs.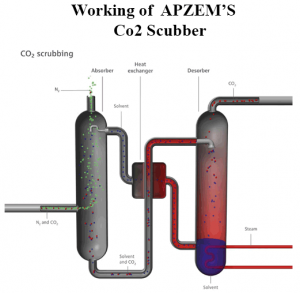 Contaminants Removed

H2S , HCl , HF , HBr
HCN ,HNO3 , NH3
Formic acid , Chromic acid
SO2 , Cl2, F2, Br2 , BCl3, BF3
Formaldehyde , Ethylene compounds
Soluble alcohols, acids
VOCs And many others
Applications
Landfill and Biogas Contaminants
Acid Fumes and gases
Chemical Fumes and Odor
Food Processing Odors
Metal Finishing Fumes
Steel Processing Fumes
Wastewater treatment plant odors
Advantage

High level of automation resulting in easier operation of the CO2 removal system
No expensive chemicals are required for our CO2 scrubber
As this Carbon Dioxide Removal System has the regeneration process, small process water is required
giving consistent results.
provides high methane content in Clean Gas (upto 95% methane)
High energy efficiency with minimum methane loss to scrubbing medium
Other Technical Details
Features
Advancements
Customization Factors
Accessories
Others
Features
Powder coated sheet metal scrubber body
Soda lime cartridge rack
Fans: · 2 x 24 volt fans ·
Flow Meters: · Up to 5.5 LPM distribution per oxygen cylinder
Single unit suitable for 0-30 persons
 Multiple units required for more than 30 persons
Maintains CO2 concentration below 10,000ppm (1%) (MSHA standard)
Battery back-up life: 12 – 96 hrs (+ safety margin) and is scalable to customer requirements (depending on battery power)
Advancements
Detectors are built into the scrubbers to automatically and continually monitor CO2 and O2 levels
Alarms alert occupants of fluctuating gas levels
Low maintenance and simple calibration
Can integrate with wireless communications system to send data to the central office TIMER
Built into scrubber and set according to number of occupants
Emits alarms for soda lime change-out schedule
For complete stand-alone use of the scrubber
Customization Factors
Contaminant solubility
Vapor pressures
Wash liquid flow rate
Liquid to gas ratio
Packing chamber height, diameter, and volume
Packing media type and size
Chemical additives
pH control
Precipitation of reaction products
Multiple solution scrubbing
Required scrubbing stages
Pressure drop across packing
Materials of construction
Site requirements
Accessories
Centrifugal Blower,
Spiral Ducts,
Flexible duct,
Suction hoods,
Magnahelic gauge,
Packings
PH meter
Water Level indicator & controller
Pump etc..
Others
Certification : All Apzem Products are designed to comply with ACGIH and OSHA standards as well as local PCB Standards.
Warranty : All Apzem Products are minimum one year waranted for performance and quality.